Career Spotlight: Optical Designer
As part of Propulsion Québec's mobilizing project En route! several trades will be presented to you to introduce you to promising career opportunities. Electric and smart transportation is the sector of the future in Quebec! To learn a bit more about the job, we talked with the people at LeddarTech.
LeddarTech is a leader in environmental sensing platforms for autonomous vehicles and advanced driver assistance systems. The company develops innovative autonomous driving solutions for the electric and smart transportation industry. LeddarTech's optical experts design LiDAR components such as mirrors, lenses, and filters that are used to direct laser signals and collect the light reflected. The Leddar™ Pixell, for example, is a 3D flash LiDAR with a 180-degree field of view designed specifically for advanced driver assistance system (ADAS) and autonomous driving (AD) applications.
As an optical designer you'll be part of a multidisciplinary team of dedicated professionals that design products according to the needs of the company's clientele. Challenges and opportunities abound. You'll be designing and putting products into production at a small or large scale, for purposes as varied as measuring wind speed, synchronizing the antennae of a radio telescope, detecting objects in a vehicle's blind spot, and more.
Kids don't generally dream of being optical designers when they grow up! It's a niche job, but one in high demand in the EST industry. It requires dedication, curiosity, and a desire to make sense of what you see. If you like physics, enjoy trying to figure out how things around you work, and are interested in mastering the principles of optics to help design and manufacture innovative solutions, this job is for you!
Since a product's optical performance is closely related to its ultimate overall performance, optical designers need to understand how the mechanics, electronics, and software affect the performance of the system being built. That's why teams need to be multidisciplinary, collaborative, and in constant communication.
There's no such thing as a "typical" day in the life of an optical designer — so you'll never get bored! Somewhere between 10% and 80% of the job involves experimentation, and the rest of the day is taken up with design, computations, simulation, and analysis.
Testimonial

"The beauty of light has always fascinated me, whether it's a ray of sunlight or the light in a room or a painting. I was interested in a lot of subjects when I was younger. I started with an integrated college diploma in science, literature, and art, and realized that physics really satisfied my desire to make sense of my environment in a rational way. I enjoyed the methodology, the rigor, and the detective work. Ultimately I decided to pursue engineering because I like working with something tangible!"

Maryse Aubé, P.Eng., M.Sc.A., Senior Designer, Optical at LeddarTech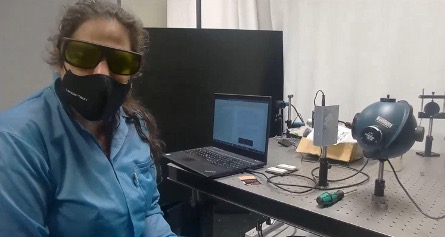 Optical design: Truly a team effort
Maryse Aubé, a senior optical designer at LeddarTech, speaks to the importance of having a variety of backgrounds and perspectives in her field: "Tech firms are often quite open to the idea of bringing in people with a variety of experiences and educational backgrounds. Here, everyone involved has broad-based profiles that complement one another.
Effective product design requires you to listen, communicate, and collaborate at all times with the other members of your team. To tackle design challenges, you need to be creative and draw on a variety of approaches and perspectives."
Good for people looking for a career change?
If you have expertise in optics, optoelectronics, optomechanics, or engineering and you're interested in using it to revolutionize the transportation and mobility of tomorrow, consider making a move to a business like LeddarTech and working as an optical designer. A degree in mechanical engineering can also lead to a career in optomechanics.
Job description
Main duties of an optical designer:
● Design optical systems (lens assemblies, etc.) in collaboration with other disciplines, customers, and suppliers
● Test, integrate, and adjust systems to create prototypes as well as optimized, operational products
Required skills:
● Technical understanding of optics, optoelectronics, optomechanics, and manufacturing techniques
● Proficiency in computational, design, simulation, and analysis programs
● Lab skills
● Team spirit
Required education
Bachelor's degree in engineering physics or physics, often with an optics specialization. Some people choose to pursue graduate studies as well.
About LeddarTech
LeddarTech is a leader in environmental sensing solutions for autonomous vehicles and advanced driver assistance systems. Founded in 2007, LeddarTech has evolved to become a comprehensive end-to-end environmental sensing company that helps customers solve critical sensing and perception challenges across the entire value chain of the automotive and mobility market segments. With its LeddarVision™ sensor-fusion and perception platform and its cost-effective, scalable, versatile automotive-grade solid-state LiDAR development solution based on the LeddarEngine™ platform, LeddarTech enables Tier-1 and Tier-2 automotive system integrators develop complete sensing solutions for Level 1–5 autonomy. These solutions are actively deployed in autonomous shuttles, trucks, buses, delivery vehicles, robotaxis, and smart city/factory applications. LeddarTech holds more than 95 patented technologies (granted or pending) that improve driver assistance and autonomous driving system capabilities. The company has worked on multiple state-of-the- art innovations in remote sensing for the automotive and mobility industries.

Additional information available at www.leddartech.com and onLinkedIn, Twitter, Facebook and YouTube.
En Route! is an initiative of Propulsion Québec and is supported by the Quebec government.