Career Spotlight: Operator
As part of Propulsion Québec's En Route! initiative, we're presenting a Career Spotlight series to introduce you to exciting job opportunities in this growing industry. Electric and smart transportation is the sector of the future in Quebec! To learn a bit more about the job, we talked with the people at Blue Solutions Canada.
At Blue Solutions Canada, a company that designs, develops, and sells electric vehicle batteries, there are two types of operator: assembly operators and specialized operators.
Assembly operators are responsible for assembling lithium batteries from start to finish. They connect and install the electronic components and control the high-tech, semi-automated robots involved. Specialized operators prepare and combine the raw materials that go into the lithium batteries. They operate production equipment such as extruders, ensure materials are aligned, and adjust the settings on the robots.
Both jobs require you to be resourceful and proactive. If your friends and family say you're a perfectionist with a real attention to detail, those are spectacular qualities for an operator! And if you're interested in technology, innovation, and R&D and want to be part of the future of mobility, this is a great career opportunity for you. Good operators are flexible, rigorous, and versatile, with top-notch observation, organizational, and fine motor skills.
Testimonial
"What I love about my job is that I get to work with this futuristic technology and my team and workplace are so nice!"
"I like knowing I'm working for a future-facing company."
"The thing that motivates me to come to work in the morning is that I'm doing something important and my employer recognizes that. You feel important at Blue Solutions Canada."
Comments from Blue Solutions Canada employees
Be part of the future of mobility
Working at Blue Solutions Canada will let you play a hands-on role in tomorrow's transportation and create a greener, more livable world. Here are some interesting facts about the company:
It's the only company in the world that produces LMP (Lithium Metal Polymer)
LMP batteries are "all solid state," as opposed to other batteries on the market
The research, development, design, and production are all done in Quebec—these batteries are 100% made-in-Quebec!
The workplace is clean, well organized, quiet, and very safe
One of their biggest customers is Daimler, the parent company of Mercedes-Benz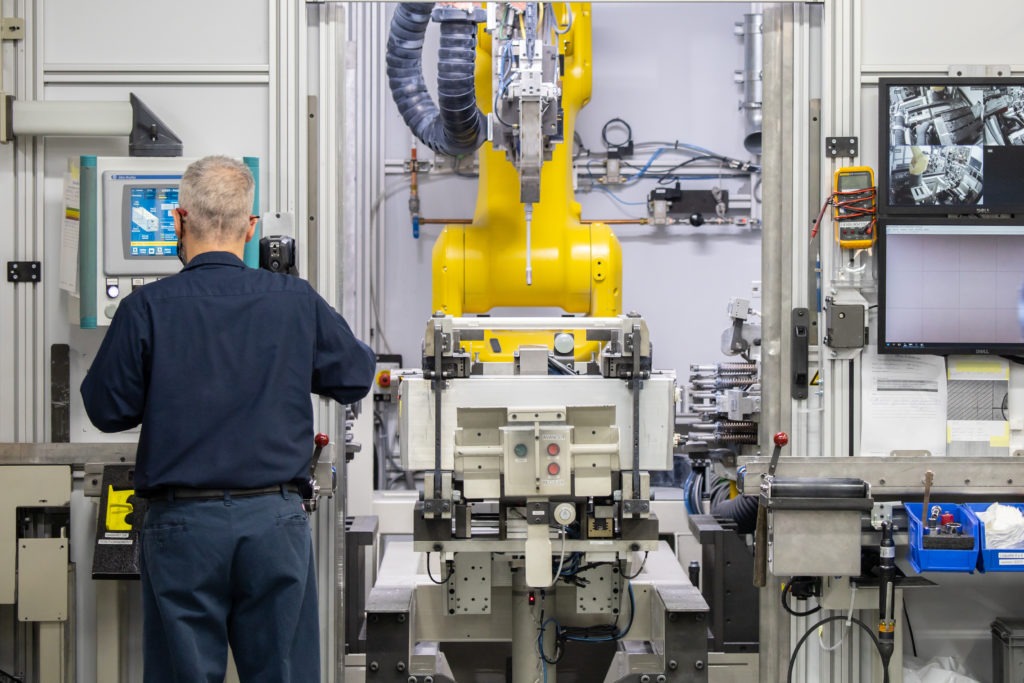 Job description
Duties of an assembly operator include:
Operating high-tech machinery
Adjusting settings on equipment according to the job instructions
Preparing equipment for the job
Assembling and inspecting electronic components
Crimping covers, filling, and testing for leaks
Installing and checking electronic boards
Connecting high-voltage packs
The duties of a specialized operatorinclude:
Operating various production machines
Aligning materials and adjusting settings on equipment according to the job instructions
Checking and inspecting product quality in accordance with standards
Handling and storing materials and products
Both jobs involve:
Completing reports
Making pertinent observations and recommendations for improvement
Attending production meetings
Following workplace health and safety rules
Preparing and cleaning the machinery as required
Participating in other job-related tasks as required.
Required education
Assembly operators must have two to five years of experience in an industrial setting working with high-precision equipment. A high school diploma is also required. Specialized operators need a diploma of college studies (DCS), an attestation of collegial studies (ACS), or a vocational diploma (DVS) in chemistry, plastics, metallurgy, production equipment operations, or a related field.
About Blue Solutions

Welcome to a world that's all electric! Blue Solutions Canada is a subsidiary of the Bolloré Group, one of the top 500 corporations in the world, and has more than 300 researchers, engineers, and technicians producing high-tech batteries at two production sites in Brittany and Canada. Our business is built on our expertise designing, developing, and marketing end-to-end energy production, storage, and smart management solutions. Our batteries are used to power cars, buses, and trams as well as entire cities.
En Route! is an initiative of Propulsion Québec and is supported by the Quebec government.