High-Voltage Mix of Electrification, Connectivity and Excellence
A pioneer in the field of electrification and connectivity of heavy-duty vocational trucks, Effenco is a key player in the electric and intelligent transportation ecosystem in Quebec. Founded in 2006 by three visionary engineers looking for solutions in the field of energy efficiency, the company, which is now active in a dozen countries and has more than 80 employees, is driven by the desire to accelerate the fight against climate change—one of the biggest challenges facing humanity today.
The spirit of innovation—embedded in the company's DNA
At Effenco, the corporate culture is not only imbued with the creativity and inventiveness of its founders, but it is also marked by the desire to innovate in a collaborative environment—values deeply rooted in the DNA of the organizational culture.
Apart from playing a role in a company engaged in the fight against climate change, working at Effenco also means embracing human values based on collaboration and personal initiative. It means belonging to a community of liked-minded colleagues, highly talented people who want to accomplish great things by contributing to large-scale projects in an environment where each person is an essential link in the chain.
A culture based on talent, collaboration and curiosity
Effenco offers an open and highly stimulating work environment where experts in many advanced fields work side by side on a daily basis, hence the notion of collective brainpower so dear to the company. Effenco's electrification and connectivity solutions draw on a wide range of talents, including mechanical and electrical engineering, computer science and the implementation of artificial intelligence (AI) algorithms.
Standing toe to toe with electrification powerhouses worldwide
Effenco's tremendous growth in recent years has led to the optimization of its business processes, including its recruitment strategies. Creating a work environment conducive to innovation and the realization of one's full potential is essential not only to ensure the company's success, but also to attract the best talent in the industry. To play in the big leagues, it is imperative to cultivate a taste for performance and excellence.
When success and fun go hand in hand
Injecting a dose of fun into the workplace is the best way to cultivate a sense of belonging and togetherness. From the electric guitar wall to the espresso machines, from the electric vehicle charging stations to the indoor bike rack, not to mention the traditional pizza Fridays—work rhymes with pleasure at Effenco, where everything is designed to foster solidarity and a sense of community in a dynamic and productive atmosphere.
Effenco's offices are located in the South-West, in the heart of Montreal, a vibrant neighbourhood near the Lachine Canal and major institutions of higher education.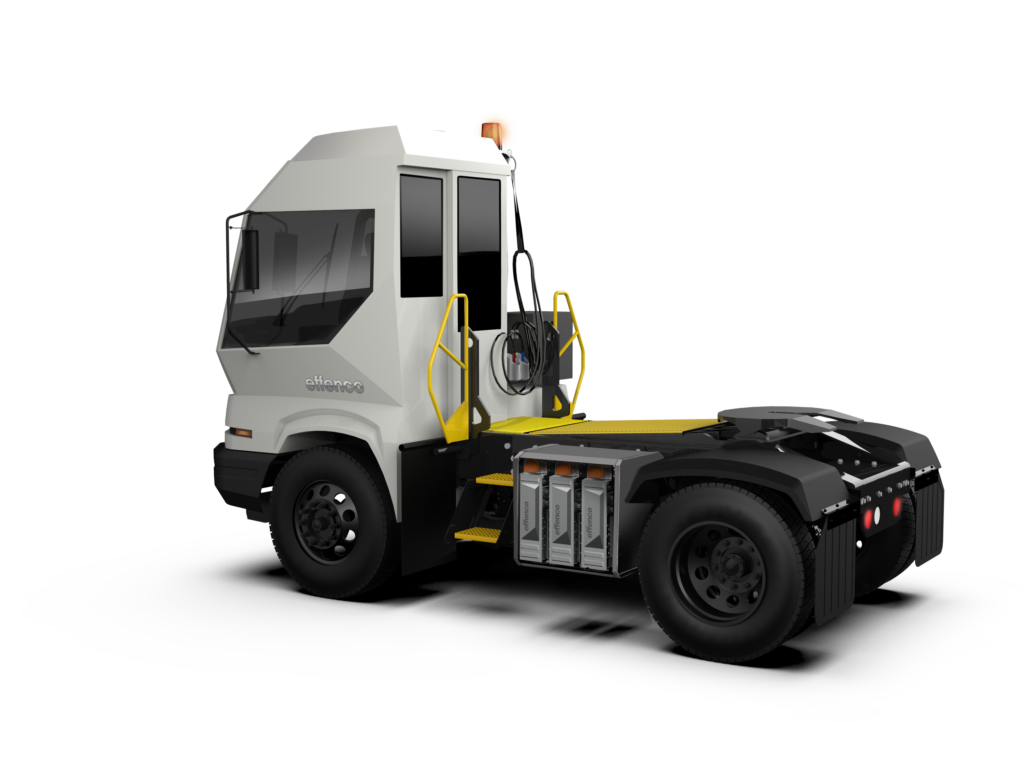 Innovation: day in, day out | | Effenco has just launched a new, 100% electric solution that is poised to radically transform the vocational trucking sector by significantly reducing greenhouse gas emissions in a highly polluting industry. This flexible and adaptable solution, offered at the same purchase price as diesel alternatives, pairs ultracapacitors with high-intensity wireless charging stations strategically positioned using the company's artificial intelligence algorithms, enabling the optimization of on-board energy without sacrificing the vehicles' vocation and performance. This latest innovation is a testament to the sheer scope of Effenco's projects and its willingness to take on the toughest challenges.
En Route! is an initiative of Propulsion Québec and is supported by the Quebec government.