Software designers and engineers in high demand!
Electric and smart transportation
The electric and smart transportation (EST) industry is evolving fast and experiencing explosive growth that should accelerate even more in the coming years. In addition to helping fight climate change by reducing greenhouse gas emissions, the EST ecosystem is creating jobs in promising new sectors while spurring research and the development of innovative, ever-more-advanced technology.
Major changes are in store in North America between now and 2050 as vehicles are increasingly electrified and automated. And that exponential growth is going to create a huge need for skilled, specialized workers!
The transition to electrified and automated transportation will also create a need for new expertise and skills in batteries, mechatronics, data science, and more. To continue growing, the market will require a multitalented workforce possessing new knowledge. The diagram below sums up the key competencies needed in the electric and smart transportation industry to take vehicles from concept to production.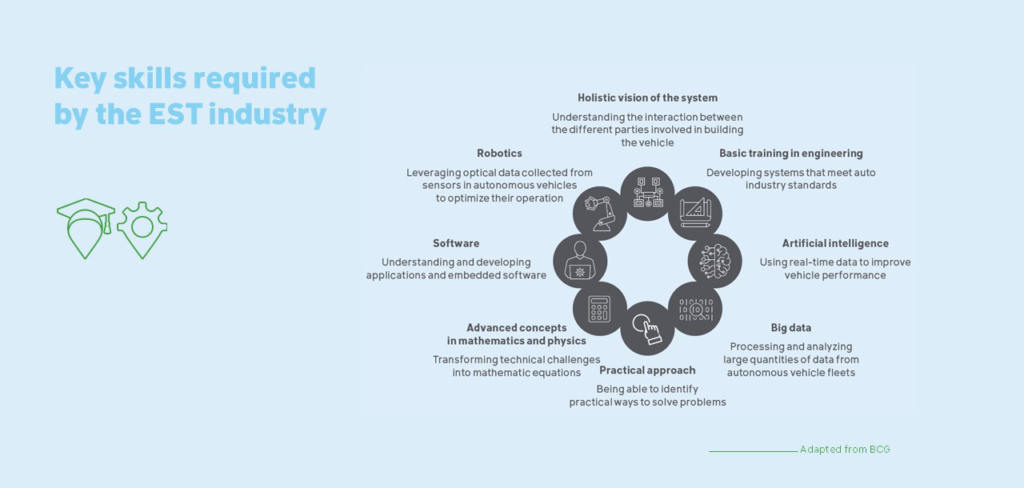 Many jobs will change and many completely new ones will appear over the coming years as the EST sector develops and its needs evolve. There are a wealth of career paths available where you can play an active part in this transition! A career in EST opens the door to exciting and stimulating challenges in engineering, development, digital technology, and more. What's more, you may already work in a sector and industry where it is easy to transfer knowledge and experience to the EST workplace.
High tech jobs
The jobs in demand are highly technical. They require emerging skills that are hard to find in the current market. This presents a unique opportunity for experienced software designers and engineers, who will find the EST sector a great place to put their expertise to work and tackle new challenges every day.
Here are few examples of the kind of positions where you can put your highly sought-after skills to work on projects that are revolutionizing the transportation and mobility sector:
Systems engineer
Systems engineers are experts in powerful drivetrain systems, such as the integrated propulsion systems in electrified vehicles, and play a key role in developing the systems architecture for vehicles.
Artificial intelligence and software designer for smart vehicles
These specialists play a key role in developing machine learning solutions for onboard imaging systems in autonomous and semi-autonomous vehicles.
Electrical engineer
Electrical engineers design, plan, study, evaluate, and test electrical systems and equipment. They help develop vehicles and charging stations by designing different components for the electric and smart transportation sector.
Mechanical engineer
Mechanical engineers are responsible for the design and overall integration of the structure, systems, and functions of a given vehicle. They check and approve new components or systems developed by designers.
Onboard software designer
These experts design software modules that make electric vehicles, smart vehicles, and charging stations run. They also sometimes conduct or participate in software design reviews and contribute to software safety studies.
To learn more about the EST industry and see what jobs are available >> https://en-route.propulsionquebec.com/repertoire-des-offres
En Route! is an initiative of Propulsion Québec and is supported by the Quebec government.